There are many Online Marketing Methods to advertise your business online.
What Marketing Methods are you using now?
Search Engine Marketing
Search Engine Optimization
Search Engine Optimization is simply called SEO. It is the process of improving rankings of website or web page in unpaid (organic) search result. Various methods are needed to achieve that goal, including making sure the website are user-friendly, mobile-responsive and speed of website. SEO is the best Online Marketing method for long-term but it also takes long time to get result.
Pay-per-Click
It is easier way to promote your website or web pages on search engine. You need to pay to search engine such as Google, Yahoo, or Bing. If you have tried to use search engine once, I am pretty sure you have seen this kind of result.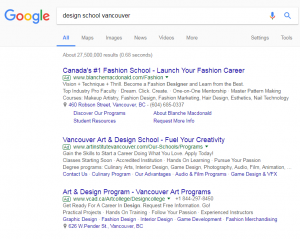 As you see PPC ads, they are always top of search engine site before organic search.
Based on keywords you choose for PPC campaign, your business website could be seen or not. Choosing proper keywords for your campaign is the key point.
Social Media Marketing
Social Media Marketing is the method of gaining traffic or attention through social media platforms. It is new style of communication. You can use many kinds of social media platforms to join the conversation to drive brand awareness.
Depends on industry, it is important to choose which platform.
I will just let you know the Big Fours of social media platform here. Later you will see which platform you need to use for your business.
So the Big Fours you probably already heard about them.
Social Media Marketing also can help your Search Engine marketing. Definitely, it helps build links that in turn support into SEO efforts.
E-mail Marketing
Maybe it is kind of old-fashioned online marketing but it is still used everyday and powerful.
With proper strategy, E-mail marketing can be effective. It allows you to reach target market easily without the need for large quantities of print space, television and radio time or high production costs. If you have subscription lists already, start email campaign right now.
Video Marketing
The definition of video marketing is quite simple. It is using video to promote or market your brand, products, and services.
Video marketing is powerful method. If you know the big players in the internet and how their algorithms work, you will know that YouTube is the most powerful places to market your business. Marketing on YouTube will help you to boost website SEO.
You can use video on Facebook which is the biggest Social Media network.  Now Instagram can show video as well as Facebook. Therefore, your one video can be used in many online platforms.
Check our Online Marketing Services